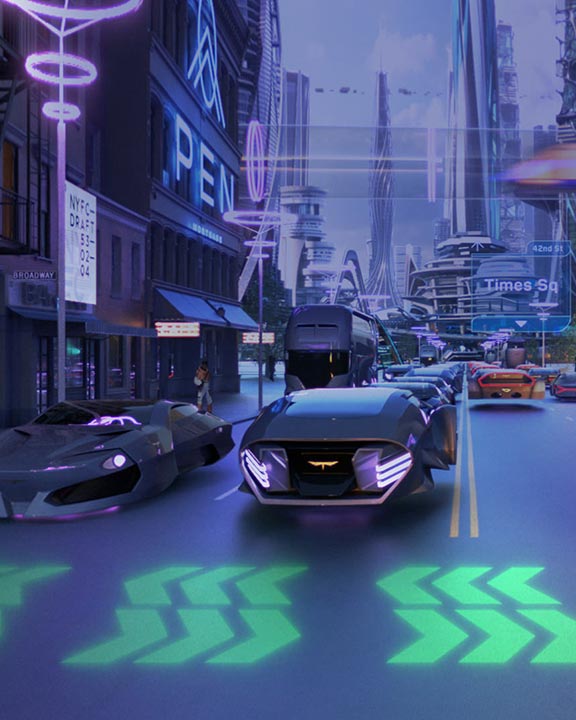 When it comes to future city design, we often think of flying cars, holograms everywhere, and tube-trains. This is classic retro-futurism at it's finest and when the gang at Adidas Originals and Jam3 said they wanted a futuristic utopian city with all of that quintessential ephemera to launch three new colorways for the Ozweego, we were like, "Oh, HELL yeah!" We took people to the year 2048 to celebrate the Ozweego's future 50th anniversary. This is New York City in a distant future where robots haven't taken over the world and we've finally figured out how to make cars levitate. In the Adidas Originals version of the future, holograms pulse with vibrant energy and the denizens don equally impressive outfits. We brought a moment in this future New York to life and revealed a 270-degree view into our hopeful, stylish future.
We Built This City, in CG
While the timeline was a short sprint, only lasting a couple of weeks, our ambitions were not. Full 3D foreground and midground with a carefully blended background matte painting were all brought to life in motion. The goal was to project onto three walls and give event attendees the feeling that they were standing in this world, even if just for a moment. Holograms are so futuristic. So we made a bunch of custom design and animated elements we could project into our future scene. Everything from way-finding to film festivals. We geek out on every single design and our signage needed to fill in those details to make this city feel alive. We chose to visualize our people with a graphic design style that felt more expressive and fashionable. Given our timeline, our people had to chill in one spot, but we wanted to give them some life. A bit of motion on their clothing and animated lights did just the trick.
We brought all of these elements together in a dense composite that would span all 3 projected screens. An important trick here was to make sure our building corners lined up with the edges of the projections to help blend these seams. Every detail counts! The end result was an impressive projection environment that set a mood for attendees and gave them a glimpse into a version of the future that's a perfect fit for Adidas Originals.