Ultimate Explorer Interactive Experience
The Ultimate Adventure Attraction
Touchscreen Map Kiosk, Dynamic Leaderboards, Microsite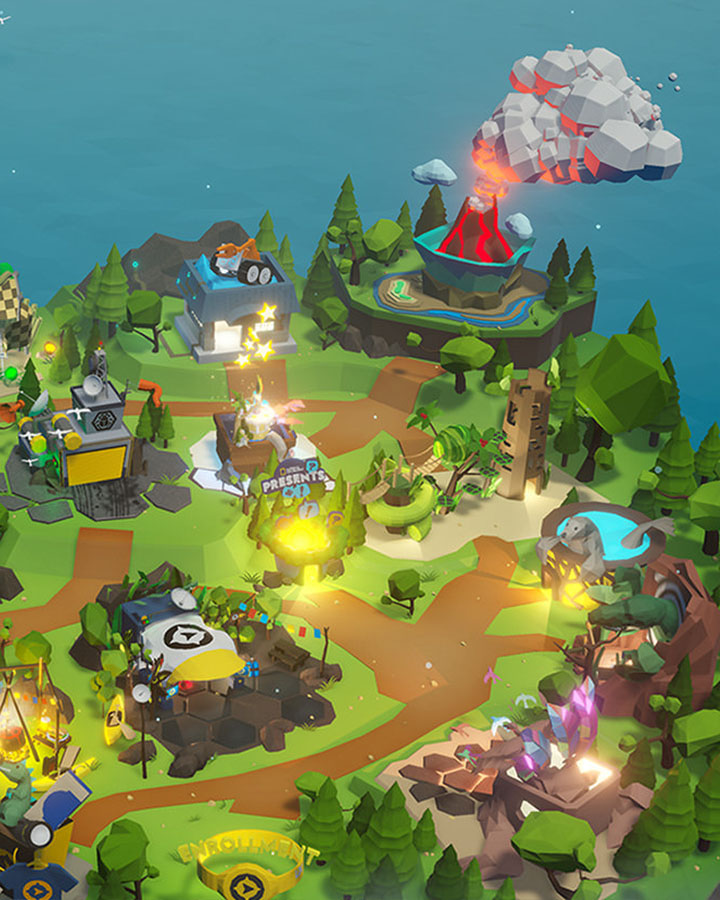 Pioneer an Immersive Experience
From thought-provoking television to captivating documentaries to its iconic print publication, National Geographic has provided us with educational, insightful, and fun content for over 130 years. With just about every other form of media already under their belt, Nat Geo turned their sights on an interactive exploration center aimed at combining elements from theme parks, museums, gaming, and role-playing into an immersive and educational family experience. A world unto itself where guests become explorers of the deepest oceans, tallest mountains, and even race against the fastest animals in the world.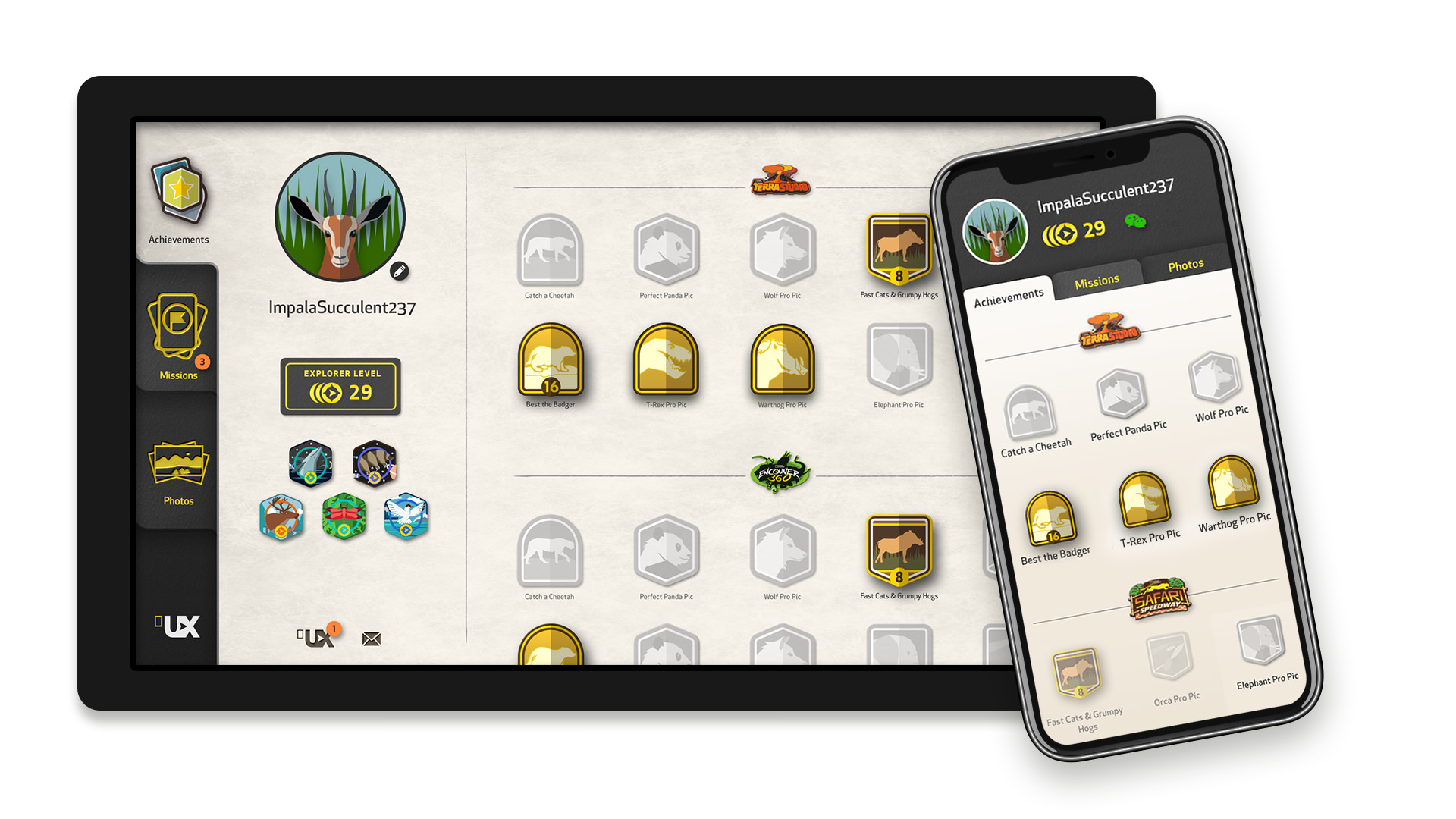 Along with our partners at iP2 Entertainment, we were tasked with creating deeply interactive content for Nat Geo's master plan – park maps, leaderboards for two racing attractions, and an interactive user passport experience that linked up to everything within the indoor exploration center. We began with our own exploration of exciting ways guests can connect with Nat Geo's content.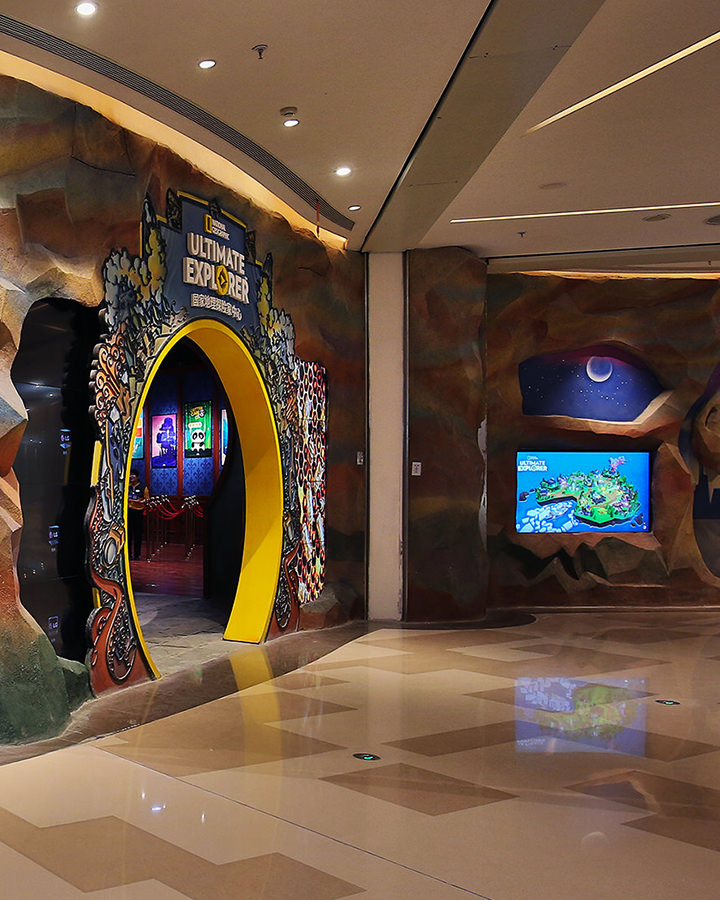 Every theme park needs a good map; a key component in the overall experience. These interactive maps displayed on large touchscreens outside the park, to show guests what awaited them. We applied a bright, colorful, low-poly aesthetic, to entice guests to explore. These maps were an attraction in themselves.
Because the maps were in 3D, we developed an app to render them in real time, which gave us the ability to add seamless animations in response to guest actions. This dynamic approach also allowed us to easily create localized versions for the NatGeo parks being built in China and Mexico.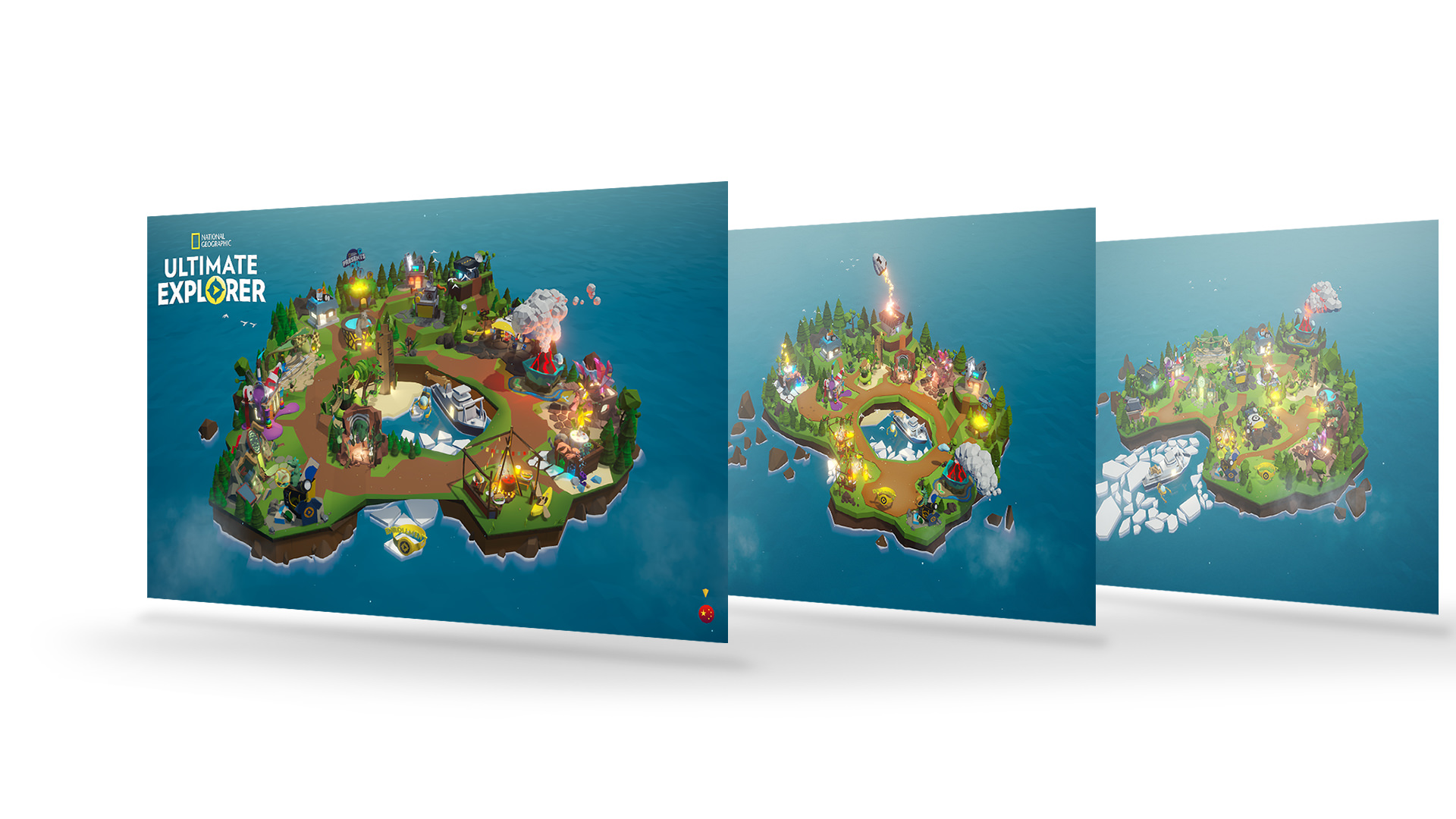 One of the park's attractions invited visitors to race against animals of various speeds. Contestants raced the virtual animals on a real track; afterwards their results were posted on an overhead screen. We developed a real-time leaderboard for the attraction that showed racers' names, avatars, and finish times – punctuated by an animated stampede.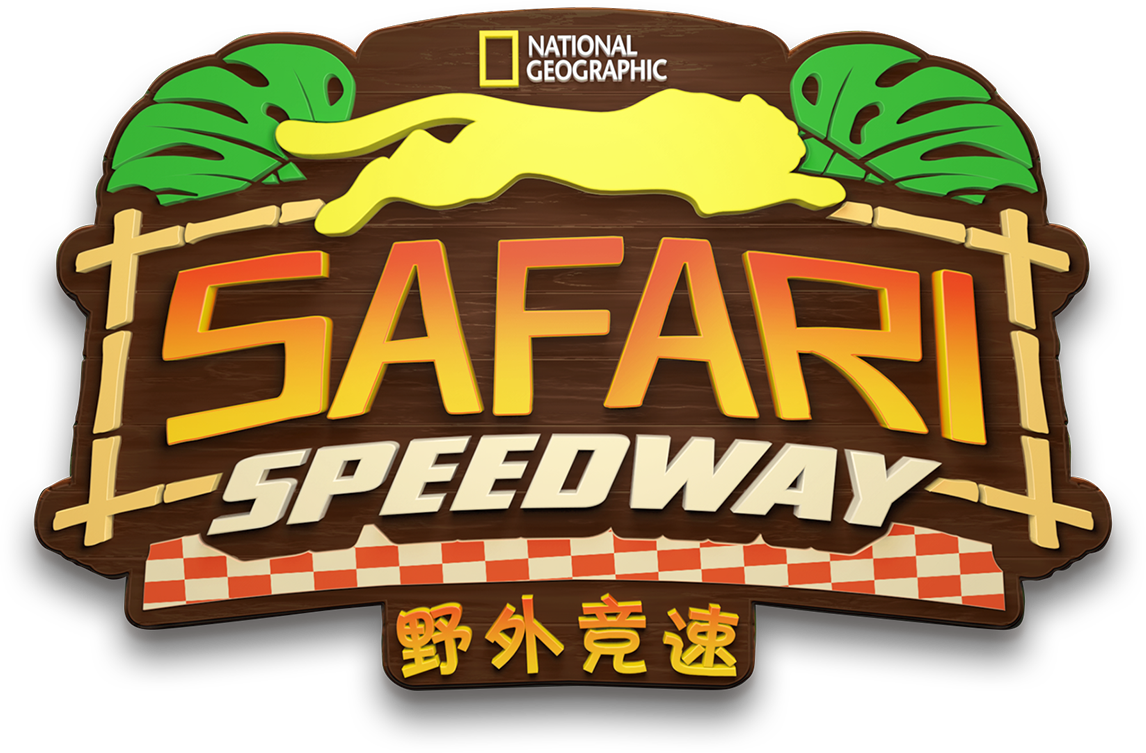 Unearthing ancient Aztec secrets is totally our kind of thing. Good thing we have The Tomb of the Ancients, another tracking-based activity where visitors complete an obstacle course while trying to collect special items as quickly as they possibly can. To heighten the friendly competition for guests, we created an interactive scoreboard that is shown at the entrance and exit. These scoreboards have idle animations that periodically show high scores and current race standings. Fluid API integration was just as critical here as visitors swiped their wristbands at the entrance, allowing everything from their race time to their collected items to be tracked and displayed within the park. 
Want a way to keep track of where you've been in the park, badges you've earned, or even pictures you've taken? There's an app for that. We helped develop Nat Geo's Explorer Passport app that allowed park visitors to keep track of just about everything. There are hundreds of badges, missions, and unlockable achievements throughout so having a concise way to access them was at the heart of the app's Explorer's Journal.
We devised the passbook to work both in and out of the park, so you can boast your entomologist badge on the go! The design reflects the stylized cases used indoors, highlighting elements of black metal and paper. Outside the park, the online journal speaks to the same style in a more streamlined, mobile-friendly way.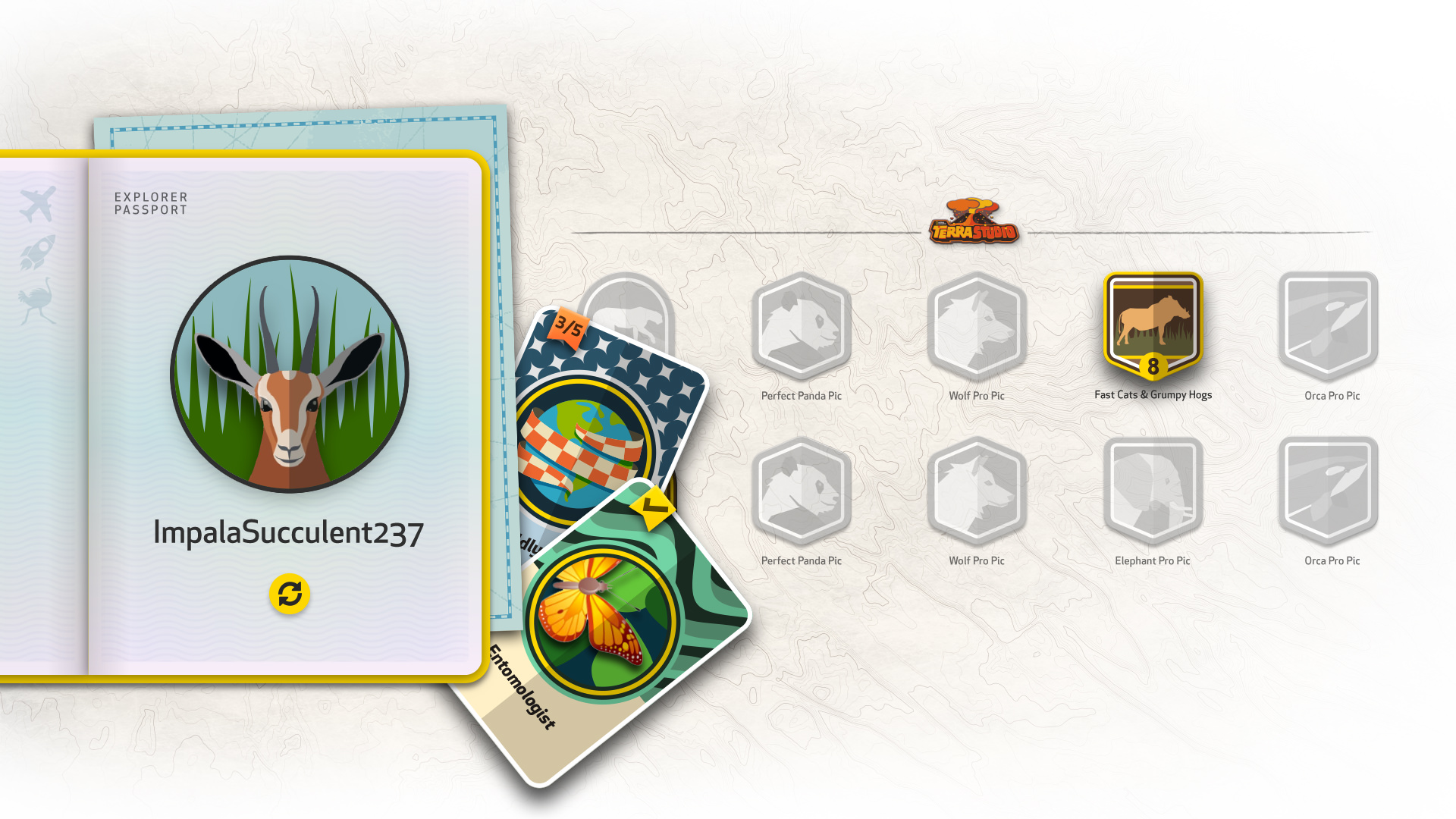 Together with National Geographic and iP2, we set out to create something extra special. We transformed empty indoor space into the Ultimate Explorer experience by combining Nat Geo's award-winning content with innovative technology. The result was a fun, interactive experience that lasted far beyond the moment and hopefully, instilled in guests a continued love for both science and the natural world.