VALORANT Prime 2.0 Weapon Skin – Reveal Trailer
What's the difference between an Aston Martin and a Lamborghini? It probably has something to do with flexing on everyone with Riot Game's latest skin line for VALORANT: Prime 2.0. It's the sequel to its first iteration, which was initially deemed a VALORANT fan favorite, so we knew we had to crank up the luxury for the highly anticipated Prime 2.0 Weapon Skin Reveal Trailer. 
Riot understood this release would be a direct fan service, debuting skins for a style of gun beloved by fans, as well as the new melee weapon VALORANT players had been longing for. For the reveal trailer, Riot wanted to lean into a "from rich to wealthy" approach that embraced luxury and opulence in a hypebeast culture way. We drew inspiration from tech reveals, which have a knack for showing off materials in a way that is almost never technical, but make them look so damn gorgeous you feel like you need one in your hand… sorta like these Prime 2.0 skins. 
Using Houdini, Nuke, Cinema 4D and Redshift, we crafted a trailer that shows off the grandiose style and splendor of VALORANT's newest skin pack. A bull's head made of gold with ferociously glowing eyes appears in the center screen and explodes into broken shards of glass. Purple smoke envelops the weapon to reveal a polished, gleaming body of metallic silver, black and shiny gold. In the final scene, the viewer is transported into a light tunnel surrounded by glowing geometric shapes and ends with a final glistening display of the magnificent family of weapons. A scene reminiscent of Space Mountain's celestial ascension into outer space, complete with that nostalgic futuristic soundtrack echoing around you.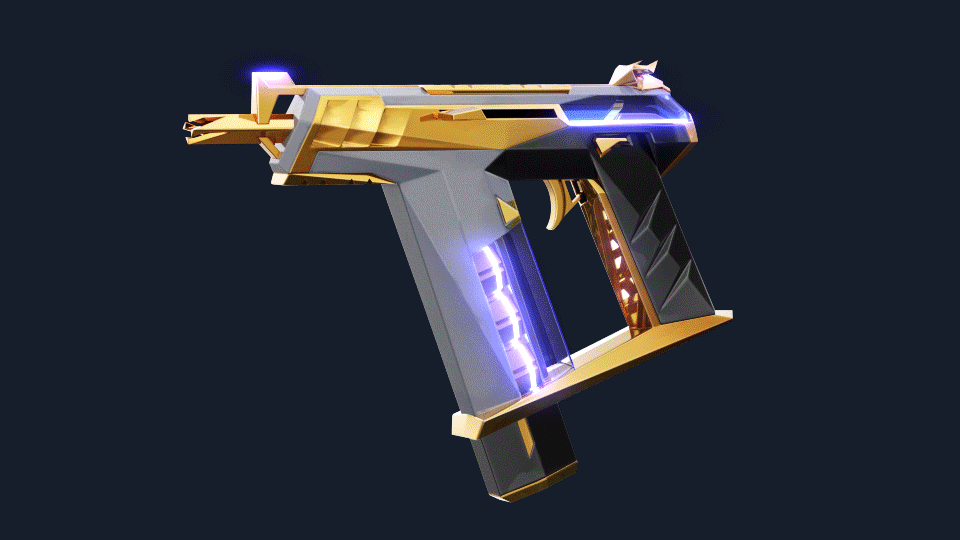 Launched in conjunction with the beginning of VALORANT's Act 2, the weapon skin line immediately brought international acclaim. Because, as any gamer knows, when you perform a fan service you can't do anything less than incredible.